Warmia Oy is the largest company specializing in the design, installation and marketing of hydronic radiant underfloor heating solutions in Finland.
Warmia has its own, active country-wide network of representatives, made up of independent regional representatives. Installations, in turn, are carried out by trained and authorized Warmia underfloor heating technicians.
Our underfloor heating design engineers offer a first-class, project-specific design service. As a design tool we use HVAC-CAD software which includes an underfloor heating design programme, tailor-made for Warmia Oy.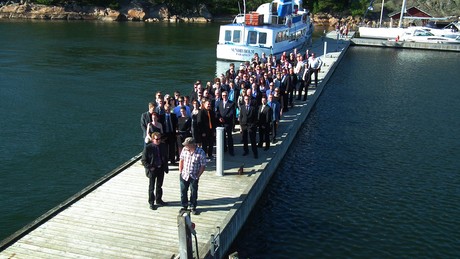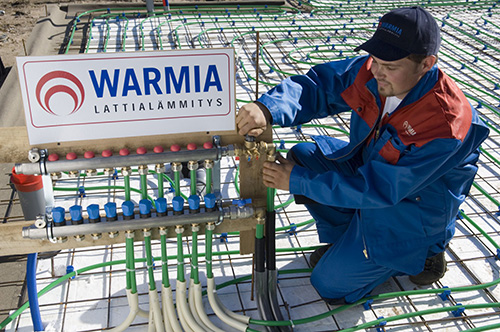 The underfloor heating components used by Warmia are manufactured by the world's leading component manufacturers, and are the best in the industry for their technology and their reliability. For this reason, Warmia issues its products a 10-year operational warranty.
The business concept of Warmia Oy is to offer developers a modern and carefree underfloor heating system through a local Warmia expert, from the design and installation all the way to the final tuning of the system.
Warmia is one of Finland's strongest companies and it has attained the 'Menestyjä-yritys' certificate (certificate for successful business performance) several years running. The certificate is only given to reliable companies. Warmia has proudly held a AAA rating for over 5-years – a rating which only 0.3% of Finnish companies attain.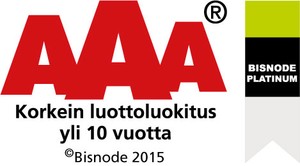 Warmia – History
2003
Warmia Oy was founded
Started exports to Sweden
2005
Were the first to introduce the PE-RT pipe in Finland
Moved to its current Lämmittäjänkatu premises in Kaarina
2006
Introduced the 5-layer Midi pipe
CE marking for the 5-layer Midi pipe
2007
Introduced the stainless steel manifold
2008
The amount of installed pipe exceeded the 10,000,000 metre mark
2010
Introduced the 2nd generation impact noise insulation board
2013
Introduced the 3rd generation Alpha 2 thermostat system
Warmia Oy celebrated its 10th birthday
2014
Launched the hydronic radiant ceiling cooling system Coolia
Warmia Oy was selected the 2014 company of the year in Kaarina
2015
Introduced the 5-layer Midi Inverse PE-RT pipe