Patented Warmia RTS Manifold
The patented Warmia RTS manifolds are always supplied cut to length, without connections between blocks. The flow in the manifold is improved when the inner surface is smooth and straight and the risks of a leak have been minimized. The handedness of the manifold is also changeable, whereby the supply pipes can be connected to either the left or the right hand side.
Manifolds are available, cut to length, for 1–12 heating circuit blocks.
The manifold blocks are 1″ in size, ensuring sufficiently large flow characteristics even to the more demanding sites. The upper, supply water manifold is equipped with high precision control valves. The adjustment range of the valves is extensive (38 l/h – 888 l/h /10 kPa). This ensures that it is possible to achieve a uniform temperature even between very different spaces.
The manifold mounting brackets are equipped with sound absorption rubber, so that possible resonance from the circulator pump to the manifold is not transmitted to the structures to create unpleasant structural noise. The manifold can be installed neatly into a cabinet or directly on the wall.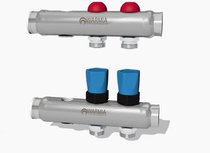 WJT 2
Block length (mm): 203 (mm)
Length including ends (mm): 396 (mm)
Distance between connector holes (mm): 192 (mm)
Total depth of the manifold (mm): 85 (mm)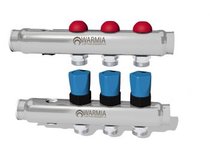 WJT 3
Block length (mm): 253 (mm)
Length including ends (mm): 446 (mm)
Distance between connector holes (mm): 242 (mm)
Total depth of the manifold (mm): 85 (mm)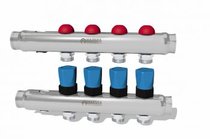 WJT-4
Block length (mm): 303 (mm)
Length including ends (mm): 496 (mm)
Distance between connector holes (mm): 292 (mm)
Total depth of the manifold (mm): 85 (mm)
WJT-5
Block length (mm): 353 (mm)
Length including ends (mm): 546 (mm)
Distance between connector holes (mm): 342 (mm)
Total depth of the manifold (mm): 85 (mm)
WJT-6
Block length (mm): 403 (mm)
Length including ends (mm): 596 (mm)
Distance between connector holes (mm): 392 (mm)
Total depth of the manifold (mm): 85 (mm)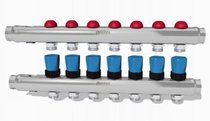 WJT-7
Block length (mm): 453 (mm)
Length including ends (mm): 646 (mm)
Distance between connector holes (mm): 442 (mm)
Total depth of the manifold (mm): 85 (mm)
WJT-8
Block length (mm): 503 (mm)
Length including ends (mm): 696 (mm)
Distance between connector holes (mm): 492 (mm)
Total depth of the manifold (mm): 85 (mm)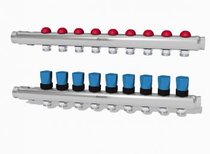 WJT-9
Block length (mm): 553 (mm)
Length including ends (mm): 746 (mm)
Distance between connector holes (mm): 542 (mm)
Total depth of the manifold (mm): 85 (mm)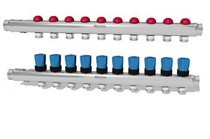 WJT-10
Block length (mm): 603 (mm)
Length including ends (mm): 769 (mm)
Distance between connector holes (mm): 592 (mm)
Total depth of the manifold (mm): 85 (mm)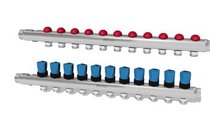 WJT-11
Block length (mm): 653 (mm)
Length including ends (mm): 846 (mm)
Distance between connector holes (mm): 642 (mm)
Total depth of the manifold (mm): 85 (mm)
WJT-12
Block length (mm): 703 (mm)
Length including ends (mm): 896 (mm)
Distance between connector holes (mm): 692 (mm)
Total depth of the manifold (mm): 85 (mm)