Construction of Single Family Homes

Economical heating solution for a welcoming home. Reliable Warmia underfloor heating is an individually designed heating solution that is carefree and affordable to use. The draft-free system generates even, constant heat, creating a welcoming foundation for comfortable living.
Without visible radiators and pipes, the householder has more freedom to implement personal building and interior design solutions in both new building projects and renovations.
Since all forms of energy from oil to solar power, solid fuels, electricity and gas are suitable as the heat source for Warmia hydronic radiant underfloor heating, it is possible to use whichever is the most economical option at the time. The water heating method is also easy to be changed later on.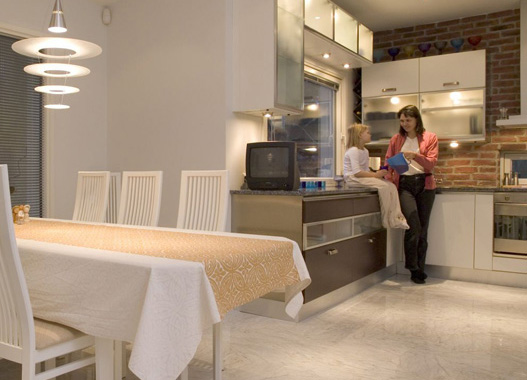 Warmia underfloor heating
Warmia underfloor heating is a modern, energy-saving heating method. Its controlled, even heat distribution allows you to drop the indoor temperature by 1–2 °C, resulting in cost savings of 5–15%. Easy Warmia is an unrivalled heating option suitable even for the more demanding sites. It is flexible, adapting to customer requirements and wishes, and there is no maintenance involved. It also keeps the building structures dry and healthy.
For pipe work, there are four different types of pipe spacing to choose from: 75, 150, 225 or 300 mm depending on the actual demand for heat output. Heat demand is usually greater in the peripheral areas of a room than in the central areas. Therefore, tighter pipe spacing is used in the peripheral areas. For example, the tightest spacing of 75mm can be used in front of a very large window or a door. The central areas of a room tend to warm up sufficiently also with less tight piping.