5-Layer MIDI INVERSE Composite Heat Pipe

All Warmia underfloor heating pipes come with a diffusion barrier which prevents oxygen from reaching the heating water, thus protecting the heat source from corrosion. The DIN Standard (DIN 16833/4721) requirement on pipe oxygen permeability is 10 g/m³/d. The oxygen diffusion layer is coated with a protective primer and a layer of polyethylene. This provides enhanced protection against possible damage. A protective film helps keep the oxygen diffusion film intact. The manufacturer issues Warmia underfloor heating pipes a 30-year material warranty.
Installing and connecting the pipe
The pipe is highly flexible and its install ability does not decline as temperatures fall. The pipe can be installed also in sub-zero temperatures.
There are various different ways to fit the pipe. Pipe clamps, tie wires and cable ties can be used to attach the pipe to a mesh. If fixing using tie wire, please ensure that the tying machine has torque control. Technicians authorized by Warmia only use tying machines equipped with torque control. When installing below a mesh, Indufix brackets are used. U-hooks are used when fastening directly into insulation, and mounting boards and mounting rails are utilized when installing on a hard surface (such as on top of an already existing floor). Cable clips, rivets or mounting boards are used when fastening to panel flooring. The pipes Warmia delivers to a building site are always cut to length; thus, there will be no extra bits of pipe left lying around.
If a pipe gets damaged during installation, we will change it. In new builds, there will be no connections inside the floor structures. If a pipe gets damaged when the floor has already been cast, it is possible to repair it reliably using connectors.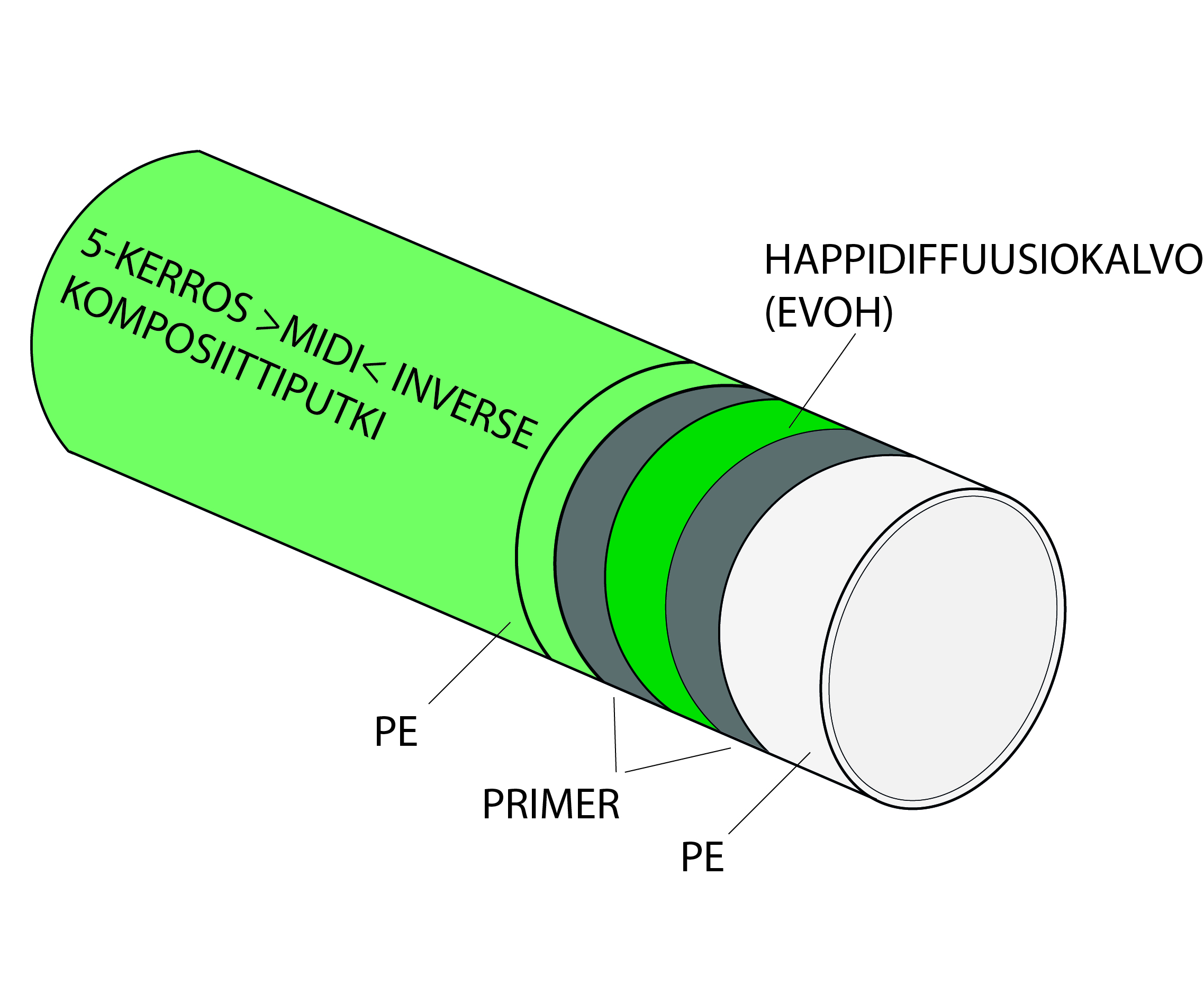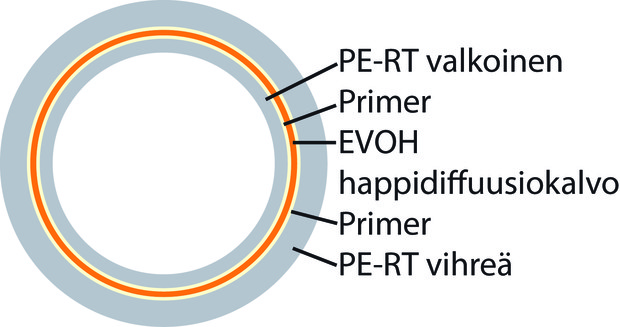 Dimensions of 5-layer MIDI composite heat pipes
Warmia uses multiple pipe sizes to ensure that a suitable pipe size is always used for each heat loss level and location.
10.0 x 1.3 mm Residential building, redevelopment, thin floors
12.0 x 2.0 mm Residential building, plasterboard structure
14.0 x 2.0 mm Residential building, screed
16.0 x 2.0 mm Residential building, screed
20.0 x 2.0 mm Large halls, industrial premises, snow-melt systems
25.0 x 2.3 mm Supply pipe in a protective conduit, located between heat source and manifold
25.0 x 2.3 mm Snow-melt pipe, black, UV-protected, without oxygen diffusion barrier
32.0 x 3.0 mm Supply pipe in a protective conduit, located between heat source and manifold
CE marking and water volume calculator
The 5-layer MIDI composite heat pipe complies with the DIN 16833 and DIN 4721 quality standards and it has been granted the universal European CE/ETA marking 16/0033. The CE marking indicates that the product meets all the requirements for the free movement of goods. The CE marking can be said to act as a passport when a product moves from one country to another within the European Economic Area.
Water volume calculator
The water volume of 1 metre of heat pipe is (dm3 = litres):
MIDI PE 10 x 1.3 mm 0.042987
MIDI PE 12 x 2 mm 0.050240
MIDI PE 14 x 2 mm 0.078500
MIDI PE 16 x 2 mm 0.113040
MIDI PE 20 x 2 mm 0.200960
MIDI PE 25 x 2.3 mm 0.326686