Construction of Apartment Buildings

Challenges
The implementation of a well-functioning underfloor heating system in apartment buildings has its challenges. The top floor has the greatest demand for heat output, often more than twice that of the floors below it. In addition, it is important to take into account the heating network operating pressure and fluctuations in the total flow rate. As occupants perceive heat differently, heating systems must be flexible.
The impact sound insulation (53 dB) required in apartment buildings calls for a certain kind of floor structure. It is important to check the compatibility of the floor structure with underfloor heating. The wide range of floor surface materials in different apartments also poses its own demands.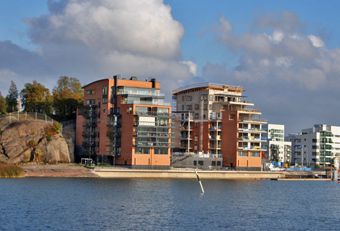 Solutions
The Warmia apartment-specific design and purpose-specific components enable temperature to be adjusted individually for each apartment.
A key element in Warmia underfloor heating systems is a room-specific heat loss calculation. Dimensioning and piping are based on actual heat losses. Components that are appropriate for apartment buildings guarantee a silent flow at the desired level.
The underfloor heating pipes are installed onto a separate screed. Heat insulation, which will also meet the impact sound insulation requirements, must be installed between the surface panels and the load-bearing structures. Isothermal, hydronic radiant underfloor heating can be used with any surface material.
The thermal conductivity of different surface materials is already taken into account at the underfloor heating planning stage. Furthermore, the occupant is able to adjust the temperature of each room using a wall-mounted thermostat. The microprocessor controlled thermostats used by Warmia have an operating accuracy of 0.1 °C.
Warmia underfloor heating installations are carried out by technicians specialized in apartment buildings. They perform the balancing adjustments, verification of the flows and offer guidance in the use of the system when the system is first switched on. Warmia also issues a 10-year operational warranty on underfloor heating systems in apartment buildings.
Underfloor heating developed one step further
The low-frequency, penetrating step sounds and structural vibration noise, both of which have a significant impact on the occupants' comfort, have been taken into account in the design of Warmia underfloor heating systems.
The Silent mounting board is Warmia's solution to the impact sound requirements of the Finnish authorities. Its unique structure allows for lower intermediate floor solutions within the scope of the structural spans and design. This allows for cost savings for the developer and improves occupants' comfort through improved impact sound levels.